She also said that she found her peace after the love marriage.
Kanwal Aftab reveals her weight & talks about taking care of daughter. Kanwal Aftab is a very pretty and talented social media star. She got fame and success at an early age. The gorgeous YouTuber turned Tiktok star Kanwal Aftab began her career with Urdu Point. Kanwal Aftab is now a very successful social media influencer with a huge fan following. She has 18.7 million Tiktok followers. She has 2.8 million Instagram followers. Recently, she has started vlogging on YouTube with her husband Zulqarnain Sikandar. Fans love her vlogging. No doubt, the two social media stars make an adorable celebrity couple and fans love their video. They are the parents of an adorable daughter Aizal Zulqarnain.
Recently, Kanwal Aftab has replied too many personal questions in her Question and Answer Session with fans on Instagram. Kanwal Aftab revealed about her weight. She didn't hide it when a fan asked her about weight. Kanwal Aftab said her weight is 74 KG and she has reduced 4kg. Here is the screenshot:
She also said that she found her peace after the love marriage. She said that Zulqarnain and Sehar Hayat are her best buddies. Talking about taking care of her daughter Aizal Zulqarnain, she said, "no matter, how busy we are, I and Zulqarnain always take the time out for our daughter Aizal Zulqarnain. Here are the screenshots:
Talking about the most followed tiktoker Jannat Mirza, Kanwal Aftab said that she loves Jannat Mirza's amazing dressing style and the way she replies to the questions.
More From Pruples: Kanwal Aftab & Zulqarnain Sikandar share stunning clicks
She also said that she doesn't wear makeup all the time and often carries a simple look at home: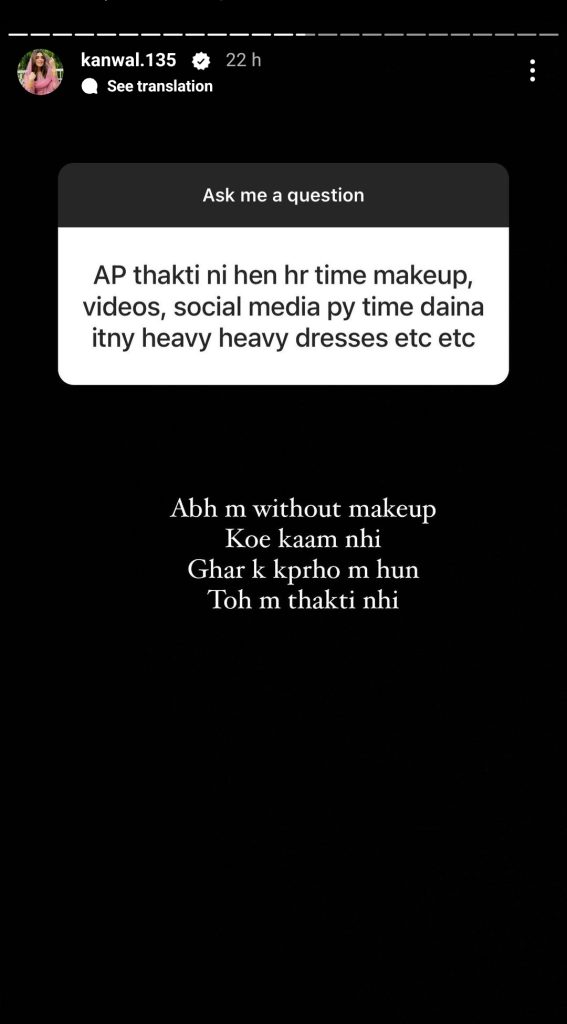 Did you like the Question and Answer Session of beautiful social media influencer? Do let us know!